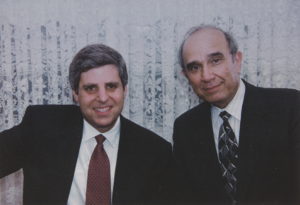 Gary Torgow is a family man, a community leader, an attorney and a businessman based in Detroit, Michigan. He graduated from Wayne State University School of Law. He's led a notable career journey. For example, Torgow founded the Sterling Group, a real estate, investment, management, and development company in Michigan. 
Today, Mr. Torgow serves as the Chairman of TCF Financial Corporation, one of the leading financial holding companies in the Midwest. 
Previously, Gary served as the Chairman of Chemical Financial Corporation, the holding company for Chemical Bank in Michigan. He was appointed executive chairman at TCF Bank when the merger between Chemical Financial Corporation and TCF Financial Corporation was finalized in August 2019.
Prior to joining Chemical Financial Corporation, Gary Torgow was the chairman and co-architect of the third-largest bank in the State of Michigan, Talmer Bancorp. Under his leadership, Talmer Bancorp acquired eleven other banks across five states and has grown from a 90 million dollar institution to nearly 7 billion dollars. Talmer Bancorp has 87 branch locations and 20 loan offices in Midwestern states.
In addition to Gary's business activities, he has been asked to serve on a number of prominent civic, charitable and business-related organizations. They include Jackson National Life Insurance Company of New York, Blue Cross Blue Shield of Michigan, The Detroit Crime Commission, The Levin Center of Wayne State University's Law School and Business Leaders of Michigan. Gary is also a board member of the Henry Ford Hospital and Wayne State University Foundations and is a member of the board of trustees of Community Foundation of Southeastern Michigan.
Gary Torgow's business career in Michigan has included serving as chairman of a number of significant city and statewide boards and commissions. These include chairman of the board for the Detroit Economic Growth Corporation and the Michigan Civil Rights Commission.
Today Gary is a sought-after speaker and advisor in both business, charitable, civic and political circles. Recently Gary was named as a member of the steering community for a new initiative of the Ministry of Diaspora Affairs for the Israeli government which will include three mega initiatives to strengthen the worldwide Jewish community. Gary also serves on the executive board for the Jewish Federation of Metropolitan Detroit Executive Board. He is president of Yeshiva Beth Yehudah, the state's largest Jewish day school.
Gary Torgow has received several awards, including the NAACP's Fannie Lou Hamer "Keeping the Spirit Moving" Award, the Jewish Federation of Metropolitan Detroit's Frank A. Wetsman Leadership Award, and Wayne State University School of Law Outstanding Alumni Award.